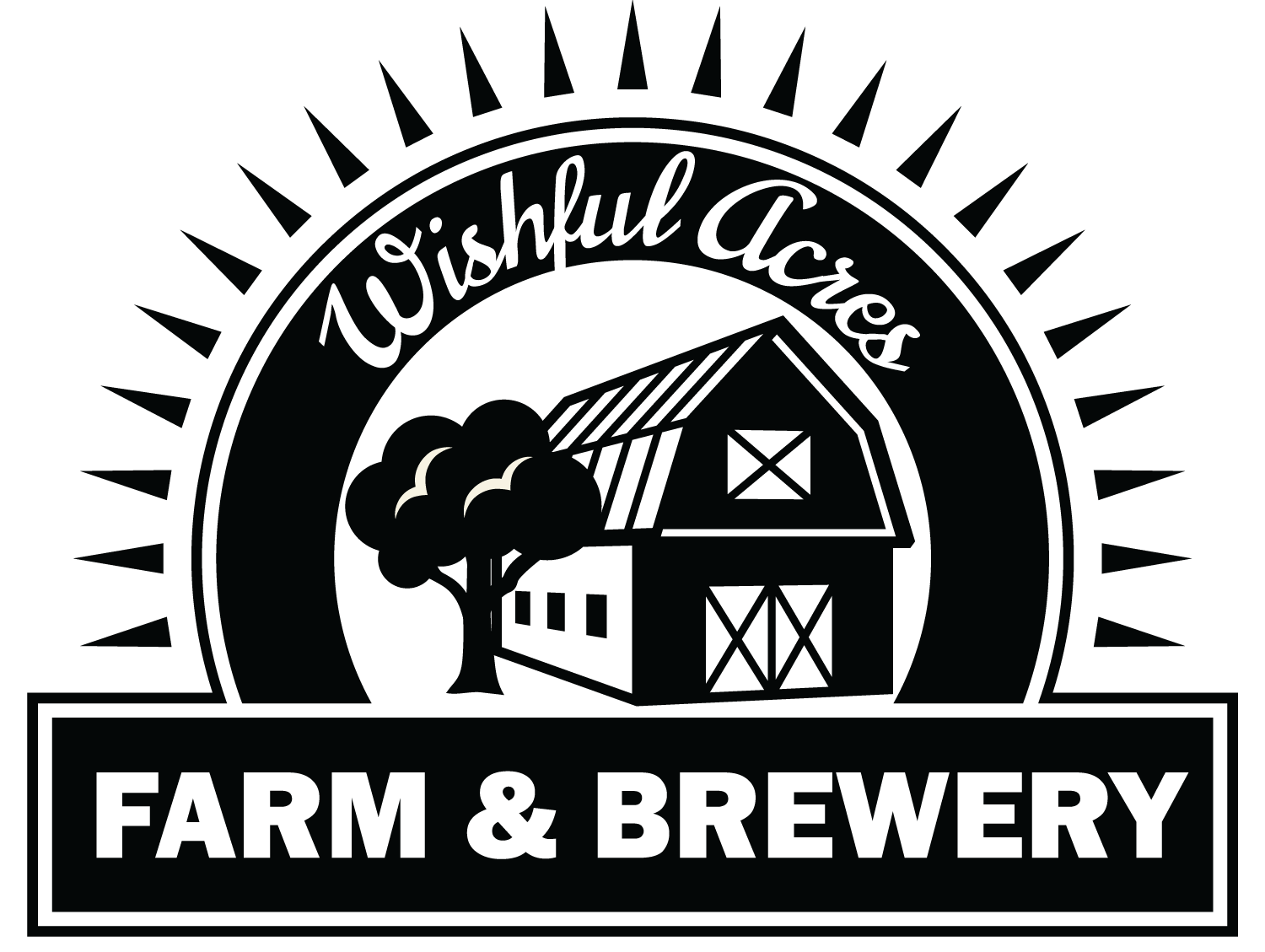 From our Farm & Brewery to your Table & Glass
Wishful Acres Farm & Brewery is a small family farm and artisan craft brewery located in the beautiful rolling hills of Northwest Illinois, near the cities of Freeport and Lena. Our farm was established in 2009 and we grow over a hundred different varieties of vegetables, hops, micro-greens, herbs, fruits, and garden plants, all of which are organic, and all are pre-sold through our membership program. Our artisan craft micro-brewery opened in 2016 and features beer brewed right here on site inside our barn! Many of our organic crops are used to create our beers!. We feature an on-site tap room and bar where you can enjoy a glass or two of our fresh draft beer, or sample everything we have on tap with a "flight". You can even take some of our beer home in a glass growler jug or 22 oz bottle. Our brewery is a true, authentic "on-the-family-farm" experience!
​
Our craft beer is available for sale at our taproom & bar, as well as other nearby locations, and our farm's vegetables, herbs, and fruits are available only through our farm's CSA program (Community Supported Agriculture membership program).
To keep in touch with our farm & brewery, you can sign up for our weekly email newsletter.
Who we are
Meet the Petersons! Wishful Acres Farm & Brewery is a small family farm and craft brewery owned & operated by Nate & Penny Peterson. Nate is the brewer and Penny is the business manager & farmer, and we've combined our passions into one business!
Our farm began as a dream, or "wish", in the early 2000s. We lived in the city of Freeport and began growing with a small, organic, backyard garden, and homebrewing beer. This garden was expanded in 2009, when we rented a half acre plot of farmland just outside of town and dubbed the business "Wishful Acres Farm" (since we "wished" for our own farm!). Then we made the big move! In early 2011, we found and purchased our own 10-acre farm nearby! Wish "fulfilled"! 2022 marks our 14th year in business.
Our brewery also began as a "wish" way back in 2008, when Nate began homebrewing & crafting his own unique beer recipes. Nate has been brewing as a hobbyist since 2008. After nearly 6 years of "wishful" thinking & planning for our own brewery... in 2016, we expanded the farm business by opening our own small artisan craft brewery, where we create new, exciting, and drinkable beers! We also feature an on-site tap room, bar, and beer garden that is open to the public.
Our family of 5 (we also have 3 school-age sons) now lives in the country on our family farm, over 5 miles from the nearest small village. We raise several acres of organic vegetables, herbs, hops, and some fruits. Our artisan craft brewery produces unique beers in a unique place, all handcrafted in small batches. Wishes can come true!
Best Wishes from Wishful Acres Farm & Brewery, and we hope to see you soon!
​
​
​